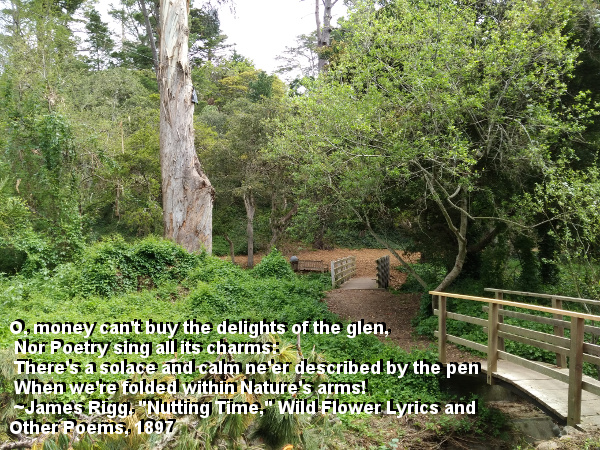 How fortunate that we were directed to this little gem in Carmel! The 35-acre Mission Trail Nature Preserve  is a woodland adjacent to the town of Carmel and the Carmel Mission (officially, the Mission San Carlos Borromeo de Carmelo). This little treasure trove of peace, ease and splendor is like finding a national park, walking distance from your favorite fine dining and shopping experiences!
What a soul-cleansing, 5 star refresh of solace and verdant beauty to share with your four-legged friends! The more than three miles of maintained trails in the Mission Trail Nature Preserve areas are all dog friendly trails  – great places to experience with the little ones we may be caring for at the time (we also enjoy interacting with other canine characters we encounter along the way!).
The size and scale of Carmel makes it an easy place to wander and explore – when you're looking for things to do in Carmel, you won't go wrong taking the time to explore Mission Trail Nature Preserve!
How to find it:
There are five entrances: Mountain View Ave, Rio Road (across from the Carmel Mission), 11th Avenue, Martin Road and Hatton Road. There are no vehicles allowed within the preserve, however, there are a handful of street parking sites available at the Hatton Road entrance by the Flanders' Mansion (an elegant home built in 1925 which was purchased by the city in the '70's, but is not currently in use – the area around the Flanders' Mansion is marked as an arboretum, which has some species identified for visitors, plus some benches for enjoying the views [unfortunately, dogs are not allowed in the arboretum area]).